While the extent of the local and global economic recovery post COVID-19 is unclear, there are still opportunities for investors able to capitalise on key trends that we believe will drive the performance of commercial real estate in 2022. Below are the top five trends that we believe will drive performance in the Real Estate sector.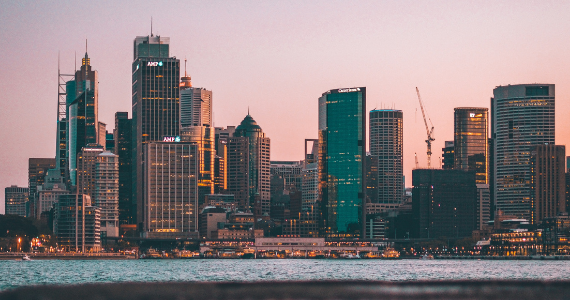 1. Low unemployment to boost office and retail demand
While uncertainties around the control of COVID-19 continue to persist, the Australian economy is well positioned for a post-lockdown recovery. One bright spot that should inspire confidence is the resilience of the Australian labour market and its overall positive impact on the domestic economic outlook. This is likely to provide positive tailwinds for most sectors, but particularly office and retail. Expectations are for office demand conditions to recover and continue to improve during 2022, with retail spending set to rise off the back of record levels of wage growth not seen since 2006-071.
2. Investor allocations to real estate to continue rising as an inflationary hedge
Despite COVID-19 continuing to be a drag on the global economic recovery, and risk of inflation and higher interest rates being ever more present in investors' thinking, global institutional investors remain materially under allocated to the real assets sector. According to a report from Hodes Weill that surveys the world's biggest investors in real assets, only 2 per cent2  of investors surveyed were set to decrease their allocation to the sector, with 33 per cent3  looking to increase their allocation and the balance remaining neutral. The real-world consequences of this are likely to see a rising wall of capital chasing a scarcer pool of available assets. We are seeing that investment and fund managers are already responding to this, with an increased allocation to higher risk strategies such as value added and opportunistic funds, targeting double digit returns. It is anticipated that capital allocators will adopt higher risk strategies in the short term, while maintaining long positions in scarcer, core, defensive products.
3. Real ESG – less talk, more action
2021 was defined by the COP26 Climate conference, which committed governments and companies to a series of global emissions reductions targets. Following this, investment managers are likely to be more accountable for their actions in implementing strategies to reduce emissions and improve their performance in other ESG areas long term. Investors are increasingly seeking more disclosure and transparency around ESG targets and performance. Access to high quality, comparable standardised data sets will be critical to ensuring performance metrics are easily understandable, and investors can make better informed decisions in this space. As ESG evolves beyond rating tools and becomes ingrained in the DNA of our assets and cities, the true total return of an asset will become more encompassing than just income and value.
4. Urban renewal – making our cities great again
Cities and urban centres are our economic, technological, and cultural epicentres, and remain a vital pillar in the successful growth and transformation of our industrial economy. COVID-19 has fundamentally challenged urbanisation, with the dense living and proximity proving to be a major challenge in a pandemic environment. That is why, as the world emerges from the pandemic, rethinking how we organise, plan, and develop urban amenity will be more critical than ever and therein lies the opportunity to make our cities great again.
In a poll conducted by the Chicago Council, 1,200 residents in America's largest cities were asked about their attitudes towards the future of urban life. The majority of residents interviewed overwhelmingly backed city life, and its economic benefits, however they have highlighted changes that will need to occur to make cities more resilient and relevant in future4. Increased access to sustainable transport such as bikes, public transport, and other shared services, as well as affordable housing schemes were amongst the most popular5. Cities are becoming more popular with younger demographics, according to Gen Z and Millennial respondents, 39 per cent want to live in cities, compared to only 25 per cent who want to move to the suburbs, the highest number by demographic group6. In short, our cities are still here to stay, but they are likely to be younger and more accessible.
5. Deeper diversification – a wider opportunity set
The commercial real estate market has broadened in terms of sector coverage and depth as investor appetite for the asset class has reached historic highs post the global financial crisis. Investors seeking more income producing assets are now looking beyond the traditional office, retail, and industrial sectors into emerging core markets such as health care, build to rent, data centres and a range of other sectors benefitting from strong demand side fundamentals. Diversification of income source, and investment allocation is a prudent approach to portfolio management in any asset class, but none more so than real estate.
While the outlook remains uncertain, what we do think is that quality, well managed commercial real estate will always stand the test of any market conditions and continue to attract long-term tenants. Investors willing to look beyond this uncertainty and take a diversified approach to investing will be best placed to take advantage of any post-pandemic upside.
Call us if you'd like to discuss this in more detail. Contact us on |PHONE.
1. ABS: All WPI Series: original (financial year index numbers for year ended June quarter)
2. Hodes Weill 2021 Institutional Real Estate Allocations Monitor Pg 9
3. Hodes Weill 2021 Institutional Real Estate Allocations Monitor Pg 9
4. Cities are Not Going Away According to Urban Dwellers – The Harris Poll
5. Transportation Brief_Final.pdf (thechicagocouncil.org)
6. Cities are Not Going Away According to Urban Dwellers – The Harris Poll
Reproduced with the permission of the AMP Capital. This article was originally published at https://www.ampcapital.com/au/en/insights-hub/articles/2022/february/5-key-trends-set-to-drive-real-estate-performance
While every care has been taken in the preparation of this article, AMP Capital Investors Limited (ABN 59 001 777 591, AFSL 232497) and AMP Capital Funds Management Limited (ABN 15 159 557 721, AFSL 426455) (AMP Capital) makes no representations or warranties as to the accuracy or completeness of any statement in it including, without limitation, any forecasts. Past performance is not a reliable indicator of future performance. This article has been prepared for the purpose of providing general information, without taking account of any particular investor's objectives, financial situation or needs. An investor should, before making any investment decisions, consider the appropriateness of the information in this article, and seek professional advice, having regard to the investor's objectives, financial situation and needs. This article is solely for the use of the party to whom it is provided and must not be provided to any other person or entity without the express written consent of AMP Capital.
This article is not intended for distribution or use in any jurisdiction where it would be contrary to applicable laws, regulations or directives and does not constitute a recommendation, offer, solicitation or invitation to invest.