If you're about to buy your first property, the upfront and ongoing costs are only part of what you need to know.
Buying a home could be one of the biggest purchases you ever make. With that in mind, here are nine helpful hints if you're considering getting into the property market.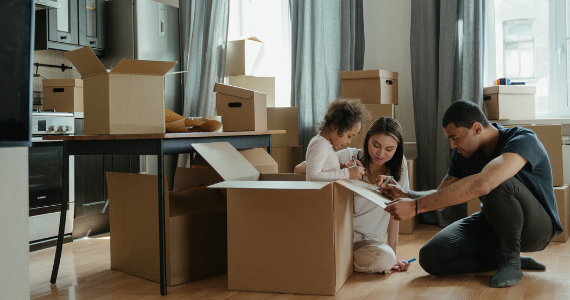 1. Investigate the upfront costs
The purchase price – If you're not paying for the property outright (which many don't), you'll generally need to take out a loan, with lenders often asking for a minimum 10% to 20% deposit.

Loan application fee – This generally covers credit checks, property appraisals and other admin done by your lender.

Lender's mortgage insurance (LMI) – If your deposit's less than 20%, you may need to make this one-off payment to your lender, which covers them in the instance you can't repay your loan. Note, if you do need to pay LMI, some lenders may also allow you to add the amount owing to your home loan balance.

Government charges – These include things like stamp duty and mortgage registration and transfer fees, which can vary, depending on where you live and where your property is located.

Legal and conveyancing costs – This covers your real estate conveyancer or solicitor, who'll prepare the necessary paperwork and conduct the settlement process.

Building, pest and strata inspections – Paying for these services, before you buy, could alert you to potential structural concerns, while a strata report could also identify financial and building maintenance issues.

Moving expenses – This may include renting a truck or hiring professionals to help you move.
2. Understand the ongoing costs
Loan repayments – These might be monthly or fortnightly over a projected loan term of 25 to 30 years and will usually cover part of the principal amount borrowed, as well as interest.

Interest charges – This is what you'll pay your lender on top of the principal amount borrowed, noting you'll generally be able to choose between a fixed or variable rate, or a combination of the two.

Other ongoing expenses – These could include council rates, utility costs, building and contents insurance, strata fees and home improvements.
3. Check whether there are black marks on your credit report
A credit report details your other credit arrangements and repayment history, and could affect your ability to get approval on a loan, especially if it highlights missed repayments and other past financial issues.
Each lender will assess your credit file against their own policies and there may be instances where some approve your application, while others reject it, or delay the process to investigate further. 
4. Know how much you can spend
It's important to figure out what money you'll have access to (savings or other financial assistance) to cover the upfront and ongoing costs, in addition to any other financial commitments you may need to prioritise.
There will be things to think about if you're buying a property with your partner as well, or if you have a family member helping you, signing as a guarantor, or going in as a co-borrower.
A big part of knowing how much you can spend will also come down to how much you can borrow and under what terms. This is where getting pre-approval (covered in the next point) may be a good idea. 
5. Consider getting pre-approval on your loan
It's worth having your loan pre-approved so you know how much you can borrow. However, it's not a guarantee and you'll also need formal approval closer to purchasing and to have your deposit ready, or you may miss out.
This might mean having a bank cheque ready if you're buying your first home at auction. Your lender will also advise you if lender's mortgage insurance is required.
6. Research property locations
Some things worth giving some thought to include:
Property prices in the suburbs you're looking at

Distance from family, friends and work

Off-street parking, local schools, shops and transport

Whether you'll need to renovate and if you have the extra funds to do so

The price growth potential in your chosen suburbs

Proposed developments in the area that could impact the value of your property

The local job market

Neighbourhood crime rates.
For a bit of help, speak to local real estate agents or look at real-estate companies online.
7. See what financial assistance may be available
Below are some financial assistance options that may be worth investigating.
First Home Owner Grant
State governments may offer a one-off grant to eligible first home owners. Contact your state revenue office to check what you might be entitled to.
Stamp duty concessions
Certain state and territory governments offer additional incentives to first home buyers, some of which involve stamp duty concessions. Research what's available in the area you're buying.
New Home Guarantee
The New Home Guarantee is an Australian government program, which basically replaces the need for Lenders' Mortgage Insurance for someone who's building or purchasing a newly-constructed property. Application for the guarantee is made by participating lenders only when you make your loan application. Note, guarantee places are limited.
First Home Super Saver Scheme
Under the First Home Super Saver Scheme (FHSSS), eligible first home buyers can withdraw voluntary super contributions (made since 1 July 2017), of up to $30,000 for individuals or $60,000 for couples (plus associated earnings/less tax), to put towards a home deposit. Find out more about whether you may be able to withdraw under the FHSSS.
8. Educate yourself on different loan types
Depending on whether you're after a basic package or one with extra features, home loans can vary greatly when it comes to interest rates and fees.
To get a better idea of costs, when you see a home loan advertised, you'll notice two rates displayed – the interest rate and the comparison rate.
The home loan comparison rate will include the annual interest rate, as well as most upfront and ongoing fees. Some home loans with lower interest rates are laden with fees, so while they appear cheap, they could end up being more expensive. The comparison rate can help you identify this and compare loans more accurately.
Be sure to look into the potential advantages and disadvantages of various features of the loans you're considering as well. For example, some loans may allow you to make extra repayments, redraw funds, or use an offset account, which could reduce the interest you pay over time.
9. Weigh up the value of a home inspection
Home inspections could alert you to serious issues that may not be visible to the eye, such as asbestos or termites, or electrical, ventilation and serious plumbing faults. These problems could cost you a whole lot more than the inspection itself.
Meanwhile, if you're buying a townhouse or apartment, strata reports can tell you whether the property is well run, maintained to a decent standard and adequately financed. 
Where can you go for more information?
If you'd like to know more about what AMP Bank has to offer, check out our AMP Bank home loans or contact us on 08 6465 5400.
Source: AMP November 2021
Important:
This information is provided by AMP Life Limited. It is general information only and hasn't taken your circumstances into account. It's important to consider your particular circumstances and the relevant Product Disclosure Statement or Terms and Conditions, available by calling 08 6465 5400, before deciding what's right for you.
All information in this article is subject to change without notice. Although the information is from sources considered reliable, AMP and our company do not guarantee that it is accurate or complete. You should not rely upon it and should seek professional advice before making any financial decision. Except where liability under any statute cannot be excluded, AMP and our company do not accept any liability for any resulting loss or damage of the reader or any other person. Any links have been provided for information purposes only and will take you to external websites. Note: Our company does not endorse and is not responsible for the accuracy of the contents/information contained within the linked site(s) accessible from this page.